Chatterton es un chaval de 10 años que ha hecho realidad su sueño, su avatar en WoW es único, al que Blizzard le ha regalado un arco realmente impresionante, hecho específicamente para él y siguiendo las instrucciones de Chatterton.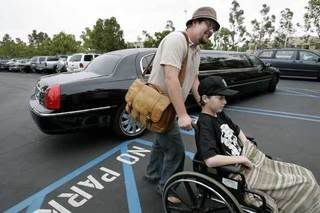 Ole por Blizzard, me gusta.

Evil Avatar - Blizzard Grants a Wish:

"We definitely want a crossbow," Chatterton instructed Kaplan. He offered a detailed description of what he wanted:

dangerous flames, curved frame and an ability to wreak havoc

.
"I want it to shoot a fiery arrow at 300 damage over 10 seconds," he said.
With a few clicks of his mouse,

Kaplan constructed a prototype

.
"Wow. Weird. Progress is going quicker than I expected," Chatterton said.
"This crossbow will be the only one in the game and it's very difficult to get," Kaplan explained. "You're going to get a lot of questions (from other players)."